Articles
Did you know
1 John 1:8 – If we say we have no sin, we deceive ourselves, and the truth is not in us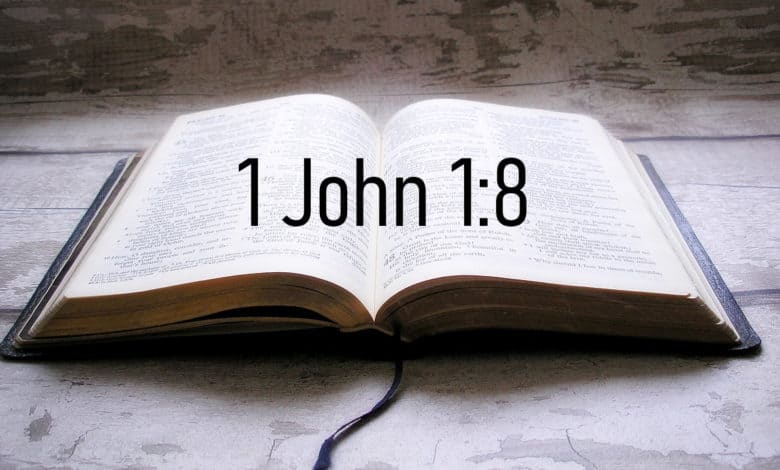 One of the most misunderstood Bible verse is:
If we say we have no sin, we deceive ourselves, and the truth is not in us. (1 John 1:8, KJV)
John speaks in 1 John 1:8 to people who have NOT been born again yet
Most of the time this verse is used by Christians to prove that no one could live without sin. They believe that Jesus abolished the law and therefore it isn't valid anymore. But if you look at the above verse in its context and read the entire chapter, it becomes clear that John is speaking to people who have not yet been born again. John is preaching Jesus' message to people so that they can have fellowship with God and Jesus as well.
That which was from the beginning, which we have heard, which we have seen with our eyes, which we have looked upon, and our hands have handled, of the Word of life; (For the life was manifested, and we have seen it, and bear witness, and shew unto you that eternal life, which was with the Father, and was manifested unto us;) That which we have seen and heard declare we unto you, that ye also may have fellowship with us: and truly our fellowship is with the Father, and with his Son Jesus Christ. And these things write we unto you, that your joy may be full. (1 John 1:1-4, KJV)
So in 1 John 1 John speaks to people who have not yet received the Spirit of God and are still living in the flesh, when he says: "If we say we have no sin". Of course, people who have not yet received God's Spirit are still sinners. They would be deceiving themselves if they said they have no sin.
John says God's Children do NOT sin
Further evidence that John did not say in 1 John 1:8 that one could not live without sin is found only two chapters later. There, John says very clearly and unequivocally that God's Children do NOT sin.
And every man that hath this hope in him purifieth himself, even as he is pure. Whosoever committeth sin transgresseth also the law: for sin is the transgression of the law. And ye know that he was manifested to take away our sins; and in him is no sin. Whosoever abideth in him sinneth not: whosoever sinneth hath not seen him, neither known him. Little children, let no man deceive you: he that doeth righteousness is righteous, even as he is righteous. He that committeth sin is of the devil; for the devil sinneth from the beginning. For this purpose the Son of God was manifested, that he might destroy the works of the devil. Whosoever is born of God doth not commit sin; for his seed remaineth in him: and he cannot sin, because he is born of God. In this the children of God are manifest, and the children of the devil: whosoever doeth not righteousness is not of God, neither he that loveth not his brother. (1 John 3:3-10, KJV)
Conclusion
As you can see, the Bible verse "If we say we have no sin, we deceive ourselves" (1 John 1:8) is addressed at people, who were not born again, yet. It is in no wise an excuse to keep on sinning and should therefore not be used as one. Even though this comes not as a surprise as the Bible already warned us that this would happen:
For the time will come when they will not endure sound doctrine; but after their own lusts shall they heap to themselves teachers, having itching ears; And they shall turn away their ears from the truth, and shall be turned unto fables. (2 Timothy 4:3-4, KJV)
A detailed article about why God's Children do not sin can be found here: According to the Bible it is possible not to sin
If you enjoyed this article, why don't you visit our Facebook Page.