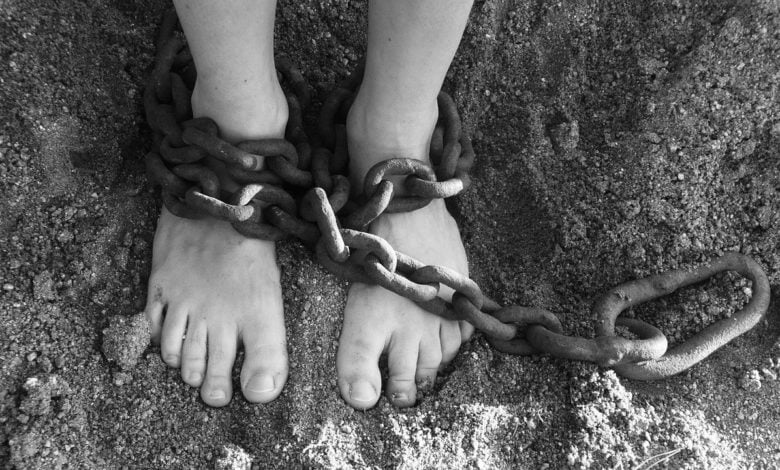 Friendship with the world is enmity with God. What does this actually mean? This article will clarify this verse and show you how to overcome sin.

There are innumerable people in the world who claim to live according to the will of God . But how many actually stick to God's written word? The answer is sobering: Hardly anyone! Christians are no exception here. Most of their behavior hardly differs from the godless among us. Countless pretend to be born again, while in reality they are still serving their sinful nature. But one thing is clear: to enter God's Kingdom, one must overcome sin!
Even so ye also outwardly appear righteous unto men, but within ye are full of hypocrisy and iniquity. (Matthew 23:28)
But how can we leave the world behind, overcome sin and grow closer to God? The answer will be found in the following text.
Whoever is part of the world is also part of its sin
Almost everyone knows that the world is full of sin and that most people do not act according to God's will. Whoever shares similarities with the world and the majority of people is far from being close to God. And those who find most people's behavior to be fine, either enjoy bad things or are just blind to the truth. There is no way someone who loves sin, can overcome it.
And we know that we are of God, and the whole world lieth in wickedness. (1 John 5:19)
Love not the world, neither the things that are in the world. If any man love the world, the love of the Father is not in him. (1 John 2:15)
Ye adulterers and adulteresses, know ye not that the friendship of the world is enmity with God? whosoever therefore will be a friend of the world is the enemy of God. (James 4:4)
"Whoever wants to be a friend of the world" unfortunately applies to most people today. Not only do they tolerate the evil in the world, but they also let themselves be led into sin over and over again.
God's children can overcome sin through God's help
Most Christians believe that all you have to do is acknowledge Jesus to be absolved of all guilt. It doesn't matter what you do afterwards, because nobody can live without sin. However, they only have this kind of view because they haven't managed to stop sinning themselves. Although they still stick to the illusion that they are God's children. How wrong they are. The following verse clearly shows us that for God nothing is impossible.
Jesus looked at them and said, "With man this is impossible, but with God all things are possible." (Matthew 19:26)
In fact, God sent Jesus into the world to enable people to overcome sin. Jesus set a perfect example in showing us how to live without sin. All children of God can overcome sin:
And every man that hath this hope in him purifieth himself, even as he is pure. Whosoever committeth sin transgresseth also the law: for sin is the transgression of the law. And ye know that he was manifested to take away our sins; and in him is no sin. Whosoever abideth in him sinneth not: whosoever sinneth hath not seen him, neither known him. Little children, let no man deceive you: he that doeth righteousness is righteous, even as he is righteous. He that committeth sin is of the devil; for the devil sinneth from the beginning. For this purpose the Son of God was manifested, that he might destroy the works of the devil. Whosoever is born of God doth not commit sin; for his seed remaineth in him: and he cannot sin, because he is born of God. In this the children of God are manifest, and the children of the devil: whosoever doeth not righteousness is not of God, neither he that loveth not his brother. (1 John 3:3-10)
What shall we say then? Shall we continue in sin, that grace may abound? God forbid. How shall we, that are dead to sin, live any longer therein?(Romans 6:1-2)
Whoever wants to belong to God must overcome sin
How can someone claim that they would belong to God if they still sin every day? God is not a sinner and therefore his children aren't either. Otherwise they would not be allowed to call themselves his children. Children of God are people who have overcome sin!
I have said, Ye are gods; and all of you are children of the most High. (Psalm 82:6)
Be ye therefore perfect, even as your Father which is in heaven is perfect.(Matthew 5:48)
Since sin lurks everywhere in the world, the easiest way to overcome sin, is to detach yourself from the world and the people. The Bible states as well that we should stay away from the world.
And I heard another voice from heaven, saying, Come out of her, my people, that ye be not partakers of her sins, and that ye receive not of her plagues. (Revelation 18:4)
Neither shall they defile themselves any more with their idols, nor with their detestable things, nor with any of their transgressions: but I will save them out of all their dwellingplaces, wherein they have sinned, and will cleanse them: so shall they be my people, and I will be their God. (Ezekiel 37:23)
Be not deceived: evil communications corrupt good manners. (1 Corinthians 15:33)
We should be spending our time with God and his word so that we may distance ourselves from evil and in return move closer to our creator.
Submit yourselves therefore to God. Resist the devil, and he will flee from you. Draw nigh to God, and he will draw nigh to you. Cleanse your hands, ye sinners; and purify your hearts, ye double minded. Be afflicted, and mourn, and weep: let your laughter be turned to mourning, and your joy to heaviness. Humble yourselves in the sight of the Lord, and he shall lift you up. (James 4:7-10)
And yes, it certainly makes sense to take a break from Facebook or TV, in order to overcome sin and not to be influenced by godless people and their evil behavior.
The Bible teaches that we should stay away from sinful people in order to overcome sin
The Bible says that we should not associate with people who do not obey God's Word. In fact the more we surround ourselves with ungodly people, the further it can move us from our Father. Especially when we are not yet fully established in our faith in God and could stray from the narrow path.
But now I have written unto you not to keep company, if any man that is called a brother be a fornicator, or covetous, or an idolator, or a railer, or a drunkard, or an extortioner; with such an one no not to eat. For what have I to do to judge them also that are without? do not ye judge them that are within? But them that are without God judgeth. Therefore put away from among yourselves that wicked person. (1 Corinthians 5:11-13)
Be ye not unequally yoked together with unbelievers: for what fellowship hath righteousness with unrighteousness? and what communion hath light with darkness? And what concord hath Christ with Belial? or what part hath he that believeth with an infidel? And what agreement hath the temple of God with idols? for ye are the temple of the living God; as God hath said, I will dwell in them, and walk in them; and I will be their God, and they shall be my people. Wherefore come out from among them, and be ye separate, saith the Lord, and touch not the unclean thing; and I will receive you. And will be a Father unto you, and ye shall be my sons and daughters, saith the Lord Almighty. (2 Corinthians 6:14-18)
If there come any unto you, and bring not this doctrine, receive him not into your house, neither bid him God speed: For he that biddeth him God speed is partaker of his evil deeds. (2 John 1:10-11)
It makes absolutely no difference whether the people we are supposed to leave are fathers, mothers, brothers and sisters or our friends. We surely have to be ready to give up everything for God. Even our family. According to the Bible, it is our duty to love Jesus (the mediator between God and man) more than our family and friends.
Think not that I am come to send peace on earth: I came not to send peace, but a sword. For I am come to set a man at variance against his father, and the daughter against her mother, and the daughter in law against her mother in law. And a man's foes shall be they of his own household. He that loveth father or mother more than me is not worthy of me: and he that loveth son or daughter more than me is not worthy of me. (Matthew 10:34-37)
Then Peter said, Lo, we have left all, and followed thee. And he said unto them, Verily I say unto you, There is no man that hath left house, or parents, or brethren, or wife, or children, for the kingdom of God's sake, Who shall not receive manifold more in this present time, and in the world to come life everlasting. (Luke 18:28-30)
God's children keep themselves unspotted from the world and its sin
Nevertheless, this does not mean that God's children cannot have contact with the world or other people. However, it is certainly the best for most people when they separate themselves in order to overcome sin and grow in their new identity as God 's children before they try to teach others. This process shouldn't only include being born again and overcoming sin, but also growing so close to God, that we cannot be led back into friendship with the world by strangers. For what would be the point of calling yourself God's child, but still be going out and doing all the bad things that the non believers do? How can you help someone overcome sin if you haven't done it yourself?
And if the blind lead the blind, both shall fall into the ditch. (Matthew 15:14)
But evil men and seducers shall wax worse and worse, deceiving, and being deceived. (2 Timothy 3:13)
God wants his children to be unspotted from the world.
Pure religion and undefiled before God and the Father is this, To visit the fatherless and widows in their affliction, and to keep himself unspotted from the world. (James 1:27)
And be not conformed to this world: but be ye transformed by the renewing of your mind, that ye may prove what is that good, and acceptable, and perfect, will of God. (Romans 12:2)
Prove all things; hold fast that which is good. Abstain from all appearance of evil. (1 Thessalonians 5: 21-22)
People pray to God but don't do what He says
Certainly, there are people who actually want to overcome sin, but are repeatedly led into it by the world. And they may be really angry about their behavior because they know that it means enmity with God. Often these people ask God for help to overcome sin. But when God replies that they should isolate themselves from the world and the people, they quickly forget about their prayer.
Only few people are actually willing to give up everything for God. Most people follow God only as long as his words are in line with their own will. As soon as they receive an instruction that they do not like, they turn away from Him. They do not understand that it is precisely these instructions that God wants to help them with.
For my thoughts are not your thoughts, neither are your ways my ways, saith the Lord. For as the heavens are higher than the earth, so are my ways higher than your ways, and my thoughts than your thoughts. (Isaiah 55:8-9)
For if we sin wilfully after that we have received the knowledge of the truth, there remaineth no more sacrifice for sins, But a certain fearful looking for of judgment and fiery indignation, which shall devour the adversaries. He that despised Moses' law died without mercy under two or three witnesses: Of how much sorer punishment, suppose ye, shall he be thought worthy, who hath trodden under foot the Son of God, and hath counted the blood of the covenant, wherewith he was sanctified, an unholy thing, and hath done despite unto the Spirit of grace? (Hebrews 10:26-29)
Friendship with the world is enmity with God. Conclusion
For most people it is a huge hurdle to just keep their television switched off. This is only a small thing compared to what God actually requires of people in order to enter his kingdom.
Again, the kingdom of heaven is like unto treasure hid in a field; the which when a man hath found, he hideth, and for joy thereof goeth and selleth all that he hath, and buyeth that field. Again, the kingdom of heaven is like unto a merchant man, seeking goodly pearls: Who, when he had found one pearl of great price, went and sold all that he had, and bought it. (Matthew 13:44-46)
Those who cannot do even this small thing to draw closer to God will not find it easy to overcome sin. The Bible tells us over and over: Friendship with the world means enmity with God. You cannot be friends with the world AND with God. Because friendship with the world is enmity with God. Everyone who truly loves God should also put Him first. Anyone who is not willing to give up social contacts such as friends or family for God is not worthy of Him. It is only through God's help that we are able to overcome sin. And only he who is born of God overcomes the world and thus also the sin that dwells in it.
For this is the love of God, that we keep his commandments: and his commandments are not grievous. For whatsoever is born of God overcometh the world: and this is the victory that overcometh the world, even our faith. (1 John 5:3-4)
With good will doing service, as to the Lord, and not to men. (Ephesians 6:7)
If you enjoyed this article on "How can we overcome sin? Friendship with the world is enmity with God", you might want to check out our Stay Biblical Facebook Page.