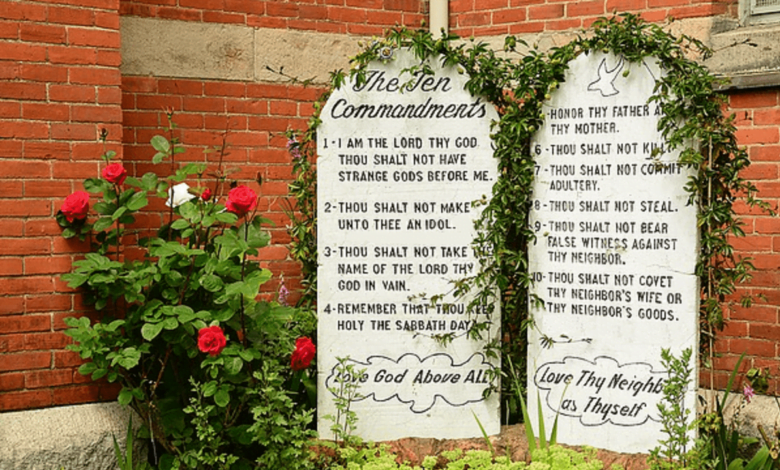 Should Christians keep the Law of the Old Testament? Are the Commandments of the Bible still valid? Or did Jesus abolish the law? The answer is clear: No, the law has not been abolished and therefore Christians have to keep the commandments of the Old Testament! In the following article I will prove to you why, based on the words of Christ and other scripture of the Bible.
And, behold, one came and said unto him, Good Master, what good thing shall I do, that I may have eternal life? And he said unto him, Why callest thou me good? there is none good but one, that is, God: but if thou wilt enter into life, keep the commandments. He saith unto him, Which? Jesus said, Thou shalt do no murder, Thou shalt not commit adultery, Thou shalt not steal, Thou shalt not bear false witness, Honour thy father and thy mother: and, Thou shalt love thy neighbour as thyself. (Matthew 19: 16-19)
Jesus taught us to keep the Old Testament Law
Many people assume that the law of the Old Testament has been abolished by Jesus and therefore are not valid anymore. Usually, these people justify this theory with verses of Paul, which are seemingly in contrast to Jesus' own statements. Jesus states in countless situations, that he is neither a friend of sin nor of sinners. For many Christians it may sound incomprehensible, but Jesus was a Jew. And his doctrines were far more Jewish than they are interpreted today. Jesus never said that we are free to break the Law of the Old Testament, nor that we can solely rely on grace. Instead, he made us realize that we must believe in him and his word to achieve eternal life. Because only who is born of the Spirit of God, receives permission to enter the Kingdom of God.
Jesus said that you must obey his word if you love him
Jesus answered and said unto him, If a man love me, he will keep my words. And my Father will love him, and we will come unto him, and make our abode with him. He that loveth me not keepeth not my sayings: and the word which ye hear is not mine, but the Father's which sent me. (John 14:23-24)
For this is the love of God, that we keep his commandments: and his commandments are not grievous. For whatsoever is born of God overcometh the world: and this is the victory that overcometh the world, even our faith. (1. John 5:3-4)
Jesus said that we should keep the commandments if we love God. The Old Testament says nothing else. Furthermore, there's another lesson in the second part of this verse. It teaches us that everyone who has been born again by the Spirit of God overcomes the world and therefore is able to keep the Law of God.
But the hour cometh, and now is, when the true worshippers shall worship the Father in spirit and in truth. For the Father seeketh such to worship him. God is a Spirit: and they that worship him must worship him in spirit and in truth. (John 4:23-24)
Hear, O Israel: The Lord our God is one Lord: And thou shalt love the Lord thy God with all thine heart, and with all thy soul, and with all thy might. (Deuteronomy 6:4-5)
Jesus said, he has not come to abolish the Law of God
But there are even more evidences in the Bible that Jesus did not come to destroy the Law of the Old Testament. They even show that Jesus places great value on the commandments and that he doesn't want to dissolve them in any way. It is even written that someone, who dissolves the Law or teaches others not to follow it, won't enter into the kingdom of heaven!
Think not that I am come to destroy the Law, or the prophets. I am not come to destroy, but to fulfil. For verily I say unto you, Till heaven and earth pass, one jot or one tittle shall in no wise pass from the Law, till all be fulfilled. Whosoever therefore shall break one of these least commandments, and shall teach men so, he shall be called the least in the kingdom of heaven. But whosoever shall do and teach them, the same shall be called great in the kingdom of heaven. For I say unto you, That except your righteousness shall exceed the righteousness of the scribes and Pharisees, ye shall in no case enter into the kingdom of heaven. (Matthew 5:17-20)
Many Christians interpret this verse in a wrong way. They think that Jesus has fulfilled the Law of the Old Testament for us, so that we don't have to keep it anymore. But in fact, the word "fulfill" means "to add" or "to complement" in this context. Already in the next sentence he says that the Law will not perish before heaven and earth have passed away. That doesn't mean that we shall stop keeping the Law, when Jesus is dead. He even says that people, who break the Law and don't observe it better than the Pharisees, won't enter the Kingdom of God at all.
Another proof that Jesus means "to add/ to complement" and not "to fulfill", can be found here. Jesus says at this point that he gives us a NEW commandment, which cleary points out that he is complementing the already existing Law of the Bible:
A new commandment I give unto you, That ye love one another; as I have loved you, that ye also love one another. (John 13:34)
Jesus warns the wicked to keep the Law of Moses
But that's not everything. In the following verse, Jesus prophesies that many will come and claim that Jesus has abolished the Law of the Bible. And yet, they will claim to be following Jesus and pretend to act according to his teachings. Read what is going to happen to these people. Put your attention on the first and last sentence:
Therefore all things whatsoever ye would that men should do to you, do ye even so to them. For this is the Law and the prophets. Enter ye in at the strait gate. For wide is the gate, and broad is the way, that leadeth to destruction, and many there be which go in thereat. Because strait is the gate, and narrow is the way, which leadeth unto life, and few there be that find it.
Beware of false prophets, which come to you in sheep's clothing, but inwardly they are ravening wolves. Ye shall know them by their fruits. Do men gather grapes of thorns, or figs of thistles? Even so every good tree bringeth forth good fruit; but a corrupt tree bringeth forth evil fruit. A good tree cannot bring forth evil fruit, neither can a corrupt tree bring forth good fruit. Every tree that bringeth not forth good fruit is hewn down, and cast into the fire. Wherefore by their fruits ye shall know them.
Not every one that saith unto me, Lord, Lord, shall enter into the kingdom of heaven; but he that doeth the will of my Father which is in heaven. Many will say to me in that day, Lord, Lord, have we not prophesied in thy name? and in thy name have cast out devils and in thy name done many wonderful works? And then will I profess unto them, I never knew you: depart from me, ye that work iniquity. (Matthew 7:12-23)
By their fruits you will recognize them. What does Jesus mean? He speaks of the deeds of men who do not follow the Law.
Hint: The last part in the verse "ye that work iniquity" means as much as "you that break the Law".
The Jewish Law teaches that someone who does not keep the Law is a culprit. It is also said that the devil is the root of all evil because he doesn't observe the Law. Here is the proof. In recent Bible translations, which are based on the ancient Greek writings, rather than the Latin writings, it is translated as "you workers of Lawlessness".
And then will I declare to them, 'I never knew you; depart from me, you workers of Lawlessness.' (Matthew 7:23) ESV
To underline these Bible verses let us add the words that Jesus' own brother said:
What doth it profit, my brethren, though a man say he hath faith, and have not works? can faith save him? If a brother or sister be naked, and destitute of daily food, And one of you say unto them, Depart in peace, be ye warmed and filled; notwithstanding ye give them not those things which are needful to the body; what doth it profit? Even so faith, if it hath not works, is dead, being alone. (James 2:14-17)
Did Paul teach the Old Testament Law in a wrong way?
At this point many Christians will still insist that Paul has taught us something else. But in fact, Paul taught us nothing else than Jesus did. He was very well aware that Jesus did not abolish the law. But in order to understand the words of Paul and his dispute with the other disciples, you must know what happened back then.
After Jesus died, there was great disagreement between the disciples. They had different opinions about how to teach the gospel to the heathens. While some of the disciples thought that the Gentiles shouldn't be taught at all, others said that it would be difficult to teach the Gospel to the Gentiles if they haven't received the Law yet. And partially, that was right.
However, Paul said that Jesus died for the grace of those who are not able to keep the Law. And that's true, as well.
BUT: nobody can receive grace if he ignores the Law of the Bible. For Jesus didn't die on the cross, so that sinners may be pardoned, but that they may receive the Spirit of God, which helps them to stop sinning! See above.
For as many as have sinned without law shall also perish without law: and as many as have sinned in the law shall be judged by the law; (For not the hearers of the law are just before God, but the doers of the law shall be justified. For when the Gentiles, which have not the law, do by nature the things contained in the law, these, having not the law, are a law unto themselves: Which shew the work of the law written in their hearts, their conscience also bearing witness, and their thoughts the mean while accusing or else excusing one another;) In the day when God shall judge the secrets of men by Jesus Christ according to my gospel. (Romans 2:12-16)
So what did Paul do then? He went to the heathen and taught them the Gospel without telling them anything about the Law. He thought that someone who doesn't know the Law can not sin against it. However, today no one can claim that he doesn't know the commandments. Even if you break the Law without knowing the Law, you still have sinned. For everyone who wants to follow Jesus must accept his teachings, so that he can be instructed by the Spirit to not sin anymore.
Here is the proof, that Paul did not teach us that we shouldn't keep the Law:
For sin shall not have dominion over you: for ye are not under the Law, but under grace. (Romans 6:14)
In the next sentence, he said:
What then? shall we sin, because we are not under the Law, but under grace? God forbid. (Romans 6:15)
If you want to know more about this topic read this article: Not under law but under grace – What did Paul teach?
Paul kept the Law of the Bible himself
Paul has kept the commandments of the Old Testament. Nevertheless, many Christians still claim that they don't have to keep the Law of the Old Testament, but can rather live in grace.
Paul continued to obey the Law because he knew about it. Only someone who is sinning without knowing the Law can receive grace. Intentional sinners are still condemned. For whoever is filled with the spirit of God is absolutely able to keep the Law. See above.
Here are some more proofs for my statements:
But this I confess unto thee, that after the way which they call heresy, so worship I the God of my fathers, believing all things which are written in the Law and in the prophets. (Acts 24:14)
While he answered for himself, Neither against the Law of the Jews, neither against the temple, nor yet against Caesar, have I offended any thing at all. (Acts 25:8)
Paul kept the Sabbath and the feast days.
And Paul, as his manner was, went in unto them, and three sabbath days reasoned with them out of the scriptures. (Acts 17:2)
And on the sabbath we went out of the city by a river side, where prayer was wont to be made; and we sat down, and spake unto the women which resorted thither. (16:13)
And he reasoned in the synagogue every sabbath, and persuaded the Jews and the Greeks. (Acts 18:4)
Purge out therefore the old leaven, that ye may be a new lump, as ye are unleavened. For even Christ our passover is sacrificed for us: Therefore let us keep the feast, not with old leaven, neither with the leaven of malice and wickedness; but with the unleavened bread of sincerity and truth. (1 Corinthians 5:7-8)
Sin is the Transgression of the Law
And every man that hath this hope in him purifieth himself, even as he is pure. Whosoever committeth sin transgresseth also the law: for sin is the transgression of the law. And ye know that he was manifested to take away our sins; and in him is no sin. Whosoever abideth in him sinneth not: whosoever sinneth hath not seen him, neither known him. Little children, let no man deceive you: he that doeth righteousness is righteous, even as he is righteous. He that committeth sin is of the devil; for the devil sinneth from the beginning. For this purpose the Son of God was manifested, that he might destroy the works of the devil. Whosoever is born of God doth not commit sin; for his seed remaineth in him: and he cannot sin, because he is born of God. In this the children of God are manifest, and the children of the devil: whosoever doeth not righteousness is not of God, neither he that loveth not his brother. (1 John 3:3-10)
But wilt thou know, O vain man, that faith without works is dead?  Was not Abraham our father justified by works, when he had offered Isaac his son upon the altar? Seest thou how faith wrought with his works, and by works was faith made perfect? And the scripture was fulfilled which saith, Abraham believed God, and it was imputed unto him for righteousness: and he was called the Friend of God. Ye see then how that by works a man is justified, and not by faith only. (James 2:20-24)
Conclusion – Did Jesus abolish the law?
As we can see, grace doesn't mean that everyone is free of the Law. It rather means that God himself helps us to keep it. Jesus did not abolish the law and therefore the commandments of the Old Testament given by God will never be ineffective. For God's Word is eternal! Through Jesus the Law of God has been written into our hearts. Actually, everyone should understand that God's Law has never changed. Only the way in which we receive it has changed.
However, a Jew must deal with it differently than a heathen. For a Jew already knows the Law of the Old Testament. He only needs to recognize through the Spirit which Law doesn't correspond to the will of God. Or in other words, he must understand how this Law has to be conducted.  If somebody doesn't know the Law, he still has to keep it. Because the Spirit of God makes it possible to stop sinning. God has always been merciful if somebody sinned by accident. For a failure has nothing to do with the heart. However, ignoring the Law of the Bible still means death.
For if we sin wilfully after that we have received the knowledge of the truth, there remaineth no more sacrifice for sins. (Hebrews 10:26)
And please once for all, the definition of grace includes the existence of an ordinary Law. How can you receive grace if there is no Law? According to the Bible grace is given to those who did everything possible to keep the commandments of God. This applies only to those who are willing to keep the Law of the Bible with all of their heart.
Visit Stay Biblical on Facebook: https://www.facebook.com/StayBiblicalEN