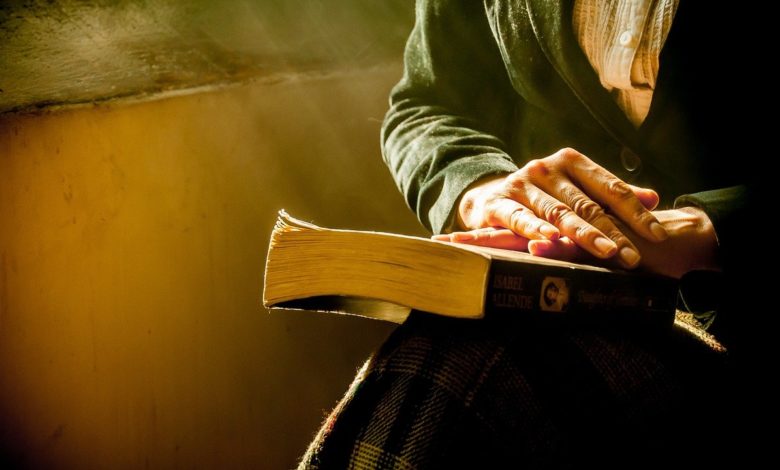 The Bible teaches that women should dress themselves modestly. They shouldn't follow the trend of society to wear clothes that are showing to much skin, but rather cover themselves as good and decent as possible. Similar to how women dressed before the 20th century.
According to the Bible women should dress themselves decently, but not adorn themselves
The New Testament of the Bible tells us that women should not adorn themselves with jewelry or other adornment. Women shouldn't use there clothes as decoration, but rather for proper covering. Both Paul and Peter teach that women should neither wear jewelry, nor gold, nor pearls, nor hair braids. Surely, Make-up also counts as a decoration, since its only purpose is to decorate a face.
The Bible says that women should adorn themselves with their modesty and their good works. Those are the things that really matter to God.
In like manner also, that women adorn themselves in modest apparel, with shamefacedness and sobriety; not with broided hair, or gold, or pearls, or costly array; But (which becometh women professing godliness) with good works. (1 Timothy 2:9-10)
Whose adorning let it not be that outward adorning of plaiting the hair, and of wearing of gold, or of putting on of apparel; But let it be the hidden man of the heart, in that which is not corruptible, even the ornament of a meek and quiet spirit, which is in the sight of God of great price. For after this manner in the old time the holy women also, who trusted in God, adorned themselves, being in subjection unto their own husbands: Even as Sara obeyed Abraham, calling him lord: whose daughters ye are, as long as ye do well, and are not afraid with any amazement. (1 Peter 3:3-6)
Furthermore, the Bible teaches that women shouldn't wear men's clothes.
The woman shall not wear that which pertaineth unto a man, neither shall a man put on a woman's garment: for all that do so are abomination unto the Lord thy God. (Deuteronomy 22:5)
Women's clothing should not tempt men to sin
The clothing of women should be decent, so that they do not provoke men to sin. For it is not only bad if you sin yourself, but also if you seduce others to sin, although you could have prevented it.
Woe unto the world because of offences! for it must needs be that offences come; but woe to that man by whom the offence cometh! (Matthew 18:7)
It is good neither to eat flesh, nor to drink wine, nor any thing whereby thy brother stumbleth, or is offended, or is made weak. (Romans 14:21)
The Bible says that it is already a sin if a man looks at a woman with lust.
Thou shalt not covet thy neighbour's house, thou shalt not covet thy neighbour's wife, nor his manservant, nor his maidservant, nor his ox, nor his ass, nor any thing that is thy neighbour's. (Exodus 20:17)
Ye have heard that it was said by them of old time, Thou shalt not commit adultery: But I say unto you, That whosoever looketh on a woman to lust after her hath committed adultery with her already in his heart. (Matthew 5:27-28)
Women who like to deliberately dress themselves seductive or to put photos of themselves on the Internet to please men, are carnally minded. This behavior is worldly and has absolutely nothing to do with God.
For all that is in the world, the lust of the flesh, and the lust of the eyes, and the pride of life, is not of the Father, but is of the world. (1 John 2:16)
If someone is following God, he represents this with his behavior and appearance
If somebody is walking with God, he should represent this attitude to the world. But not only with his behavior, but also with his appearance. Because it is our duty to be a good example to all people.
Likewise, ye wives, be in subjection to your own husbands; that, if any obey not the word, they also may without the word be won by the conversation of the wives; While they behold your chaste conversation coupled with fear. (1 Peter 3:1-2)
The aged women likewise, that they be in behaviour as becometh holiness, not false accusers, not given to much wine, teachers of good things; That they may teach the young women to be sober, to love their husbands, to love their children, To be discreet, chaste, keepers at home, good, obedient to their own husbands, that the word of God be not blasphemed. (Titus 2:3-5)
As obedient children, not fashioning yourselves according to the former lusts in your ignorance: But as he which hath called you is holy, so be ye holy in all manner of conversation; Because it is written, Be ye holy; for I am holy. (1 Peter 1:14-16)
The purpose of clothing is to cover the human body
Clothes were invented a long time ago to cover the naked human body. After Adam and Eve had eaten from the Tree of Knowledge and could distinguish between good and evil, they thought it would be better to dress themselves instead of continuing to be naked. Therefore, the woman's clothing should cover her shame.
And they were both naked, the man and his wife, and were not ashamed. (Genesis 2:25)
And the eyes of them both were opened, and they knew that they were naked; and they sewed fig leaves together, and made themselves aprons. (Genesis 3:7)
Unto Adam also and to his wife did the Lord God make coats of skins, and clothed them. (Genesis 3:21)
There is even an entire chapter in the Old Testament (cf. Leviticus 3:18) which says that we are not supposed to expose the shame of others, be it any blood relatives, a mother-in-law, a brother-in-law or someone else.
Conclusion – What does the Bible say about women's clothing?
A woman who truly loves God and wants to please Him doesn't want to attract other men's attention or desire. That's why she dresses herself modestly and covered, so that no one comes up with the idea of flirting with her or even looking at her in a wrong way. For her it is important to please God and not to please men.
Behold, I come as a thief. Blessed is he that watcheth, and keepeth his garments, lest he walk naked, and they see his shame. (Revelation 16:15)
Note: To avoid unnecessary accusations and discussions, I would like to point out that this text was not written by myself, but by a woman who I asked to write an article about this topic!
Find out what the Bible says about whether women are allowed to preach: Are women allowed to preach according to the Bible?
Follow us on Facebook: https://www.facebook.com/StayBiblicalEN