Articles
Faith Catcher is now "Stay Biblical"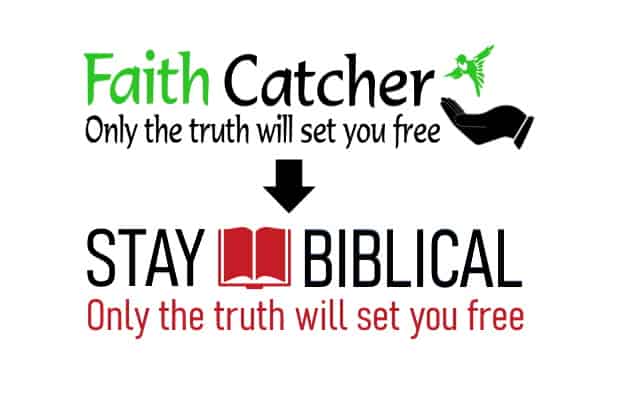 Faith Catcher has changed its name to Stay Biblical. But not only the name is different, but also the logo and the design of the website. The old link www.faithcatcher.de can still be used. You will be automatically redirected to the new page.
We decided to change the name because Stay Biblical better implies what the site is about. To hold on to the Bible and to only teach what is written in it. Stay Biblical disproves the false teachings that are taught in churches all over the world. This website is about the truth as it is written in the Bible. Our statements are always proved with many bible verses for a reason. Man made teachings and traditions don't belong here.
Prove all things; hold fast that which is good. (1. Thessalonians 5:21)
Ye shall not add unto the word which I command you, neither shall ye diminish ought from it, that ye may keep the commandments of the Lord your God which I command you. (Deuteronomy 4:2)
All scripture is given by inspiration of God, and is profitable for doctrine, for reproof, for correction, for instruction in righteousness. (2. Timothy 3:16)
We have also launched the website internationally. Our website is now available in German and English. Everyone will be redirected automatically to the correct language. German-speaking people get the German version and everyone else gets the English version. Nevertheless you can change the language later if you want. There are two flags in the menu to do so.
If you want to support us, please share our new page and posts.